BBC Thai  video on YouTube
https://www.bbc.com/thai
BBC 2 Gardeners'world  BBC iPlayer
Nid Hill's Thai veg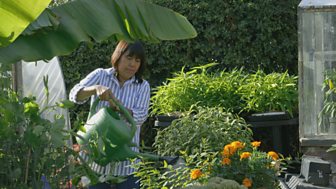 Nid Hill left Thailand in 1992, eventually settling in Somerset in the West Country. When Nid first arrived, ingredients for Thai cooking were hard to find. The basic condiments and flavourings were brought back from trips home, but Thai vegetables and herbs were difficult to source, forcing her to either do without or to grow her own.
Her family always grew their own vegetables in Thailand, so she learned early on how to raise them. Somerset was a different story though. Through trial and error she managed to create a Thai vegetable garden with a West Country twist. Though some of the growing is done outdoors, most of it is done inside protective structures. This recreates perfectly the warm moist environment needed by many Thai plants.
Nid has sourced many seeds from regular  trips back to Thailand, but thankfully  more and more varieties are becoming available from British seed companies. Her gardening style reflects her adaptable nature, and the garden is constantly evolving as she tries out new varieties.
As committed as she is to cooking genuine Thai dishes, Nid is an innovator who over the years has been combining traditional British vegetables with Thai condiments to create a unique style of fusion food.
Using more conventional veg like carrots, spring greens and potatoes, she spices them up using flavouring such as chillies, fish sauce and shrimp paste. The end result is not only incredibly tasty, but very hard to distinguish from authentic Thai cooking.
I featured in "My Cool Allotment" A book by Lia Leendertz is published on 18th April 2013
http://www.guardianbookshop.co.uk/BerteShopWeb/viewProduct.do?ISBN=9781862059665
See me with LUFFA on "Positive News"
http://positivenews.org.uk/2013/environment/agriculture/11408/sharing-seeds-britains-cooking-cultures/
Here are two articles about me which appeared in the Dorset echo.
www.seaspringseeds.co.uk  Blog: Mr. Veghead says  "Growing Thai Vegetables"
Dorset Echo Article   please search at Thai Pheeraya.
http://www.eden-project.co.uk/Summer-2009-71.htm
BBC Radio Somerset.
I have been on the radio, on the BBC Somerset morning show with Emma Britton, talking about Thai cooking and growing Thai herbs.
Thursday 22nd October 2009 at 11.00am.
Monday 1st March 2010 at 11.00am.
Ramsays Best Restaurant 2010
I was excited to be asked to take part in filming for an episode of this series! Watch out for me the episode with the Thai restaurants.
Cooking Demonstrations 2010.   
 Saturday 19th June  at Bridport food festival. www.bridportfoodfestival.org.uk
Sunday 22nd August at Sea spring farm, West Bexington. www.peppersbypost.biz
Saturday 4th September at Dorset county show. www.dorsetcountyshow.co.uk
Tuesday 5th October at Eden Project Cornwall.
Saturday 23rd October at 1.30pm.in Dorchester Town Centre for Dorset food week. www.dorsetfoodweek.co.uk
Cooking Demonstration 2011.
Saturday 23rd July at 11.30am. Food and Beer festival,Weymouth Dorset. www.wykefest.co.uk
Saturday 23rd July from 7.00pm. at The Three Horseshoes Inn, Powerstock, Dorset
Sunday 4th September at 11.00am. at Dorset County Show,Dorset. www.dorsetcountyshow.co.uk
Cooking Demonstration 2012
Friday 5th October from 11.30am. at Owen and Simpson cook shop, Dorchester, Dorset.    www.owenandsimpson.co.uk
Cooking Demonstration 2013
Friday 10th May from 11.30-3.00pm at Poundbury Garden Centre with Owen and Simpson the    cookshop, Poundbury, Dorchester, Dorset.
Thursday 22nd August at Melplash Show Bridport, Dorset